Complete solutions: Energy system analysis and audit; proposing concrete solutions and action plan for a more energy efficient operation; technical and financial support to the implementation of investments.
Artificial intelligence: Anomalies can be anticipated, possible malfunctions and deviations from normal operation can be predicted.
Validation metering: We ensure validation metering required for TAO (Corporate Tax Deduction) and EKR (Energy Efficiency Obligation System).
Possibility of immediate intervention: The system sends a notification upon reaching the preset limits.
Flexible, expandable, transferable: We provide fast, wireless installation with nationwide deployment capacity.
A single, online interface: Data from main and sub-meters are constantly available on one single platform.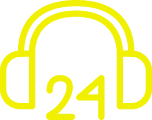 Operation and consulting: We help our clients with monthly reports to make measurement data processing easier, and we are available 24/7 for our clients.
Legal compliance: We are 100% compliant with the regulations of the Hungarian Energy and Public Utility Regulatory Authority.
Accurate cost calculation: It is possible to use KPIs (key performance indicators) which provide valuable controlling data and support compliance with ISO systems.